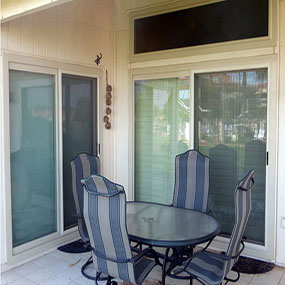 July 8, 2022
/ in Windows and Doors
/ by Gene Kirzhner
When to Replace Your Patio Door: Five Tell-Tale Signs
You love your patio doors because they expand your space and allow you to enjoy the views of the blue skies, your backyard, garden, or pool right from inside your home. However, you may have noticed that your patio door isn't operating as smoothly as you'd like. How can you know when it's time to replace your patio doors?
There are a few basic signs you can check for to decide if it's time to replace your beloved patio doors. Some of these signs have to do with safety and security, while others concern energy efficiency or appearance.
The five tell-tale signs for patio door replacement and how Desert King Windows can help include:
Sign #1: It's Difficult to Open Your Door. The most common issue is that the patio doors are hard to open. If you're having problems opening the door, especially if it's a sliding door, it's a good indication that it needs to be replaced. It's possible that the rollers can't be repaired or that the door is no longer aligned with the track.
Sign #2: You Can Feel a Draft or Heat Entering. Your patio door should fit tightly in its frame to prevent air from entering and escaping. You may detect hot or cold air pockets around the door if it has been bent out of shape or does not have sufficient weatherstripping. Properly aligned doors also limit the chance of an insect invasion.
The gaps that might produce drafts can sometimes grow very large. These holes compromise your home's security and raise the chance of pest infestation, in addition to heat transmission difficulties.
Sign #3: Moisture and Condensation. If you find condensation between your patio door glass, the seal may be leaking. Poor installation or excessive humidity can cause condensation to occur inside your living area. Air and moisture can gather between the glass panes if the seal breaks, causing the insulation to deteriorate and mildew to develop around the glass's sealing.
Sign #4: Broken Glass or Other Damage. Hail, insects, or accidents can cause severe structural damage to patio doors. Replace any patio doors that have been damaged by the elements or by broken glass. You may want to consider impact-resistant glass for your replacement doors.
Sign #5: The Style is Outdated. Replacing your patio doors may help you save money on energy costs and increase your property value. An improved patio door can brighten and modernize the area it leads into, so replacing your patio door with a new design is a terrific way to update your entire space.
Contact Desert King Windows to Replace Your Patio Doors
At Desert King Windows, we understand the importance of your patio door installation project. We are available to assist you in your selections, taking great pride in our customer service. In the Phoenix area, call us at 480-785-3923 or use our Contact form at www.desertkingwindows.com to learn more about our available options and how we can help you select the perfect patio doors. We proudly serve clients in Phoenix, Tucson, and Las Vegas.
Desert King Windows – We Knock Out the Weather!